This story copied from ATR News.  You can follow them 
at http://www.asiapacificnazarene.org/
Engage Magazine Features Story on Dr. Radcliffe, Outpouring of Community Support and Legacy!
Papua New Guinea:  Dr. Jim Radcliffe (left in photo), a missionary surgeon at the Nazarene hospital in Kudjip, Papua New Guinea, started noticing earlier this year that his energy levels were lower than usual. Busy work days completely wore him out. And one day, while walking up a hill, he became very short of breath.
Jim sought a check-up from a fellow doctor and discovered that his heart was enlarged from congestive heart failure. His physician worried he may have already had a heart attack.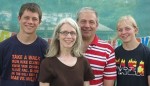 Jim and his wife, Kathy, were already scheduled to return to the States to accompany a group of missionary kids who were competing in a Bible Quiz at Trevecca Nazarene University. When they arrived, Jim sought more tests, during which an adrenal tumor was also found and a treatment plan was developed for that as well.
On July 17, Jim had major heart surgery, from which he is currently in recovery. He will have another surgery on Sept. 9 to remove the adrenal tumor and determine whether it is benign or malignant.
Throughout these unexpected health emergencies, Jim has taken comfort in knowing he has the full support and prayers of the global Church of the Nazarene, as well as the church's leadership, and that he is covered by the denomination's Missionary Medical Plan.
"[It has been] tremendously comforting to know that this is not going to be a devastating financial thing to my family," he said. "Tremendously comforting to know I can get the best health care so hopefully I can continue to fulfill my calling when and wherever God wants to use us after this. So that has really taken anxiety out of it, along with the prayers of our church people, which have been overwhelming."
Meanwhile, back in Papua New Guinea, hundreds of local people, families, villages, health centers, even local schools, businesses and government officials have been pouring out donations to offset Jim's out-of-pocket expenses related to his medical treatments. These sacrificial donations "express a deep appreciation and love for Dr. Jim and his many years of service to the people of Papua New Guinea," wrote missionary Joani Goossens.
"One lady came to my office after traveling by herself for more than an hour because Dr. Jim had saved her husband's life with a much needed surgery," Goossens wrote. "When they heard about Dr. Jim needing his own surgery they wanted to help, to show appreciation for what he had done in their time of need. Her husband had to attend to business in the capital city of Port Moresby, but their family didn't want to miss the opportunity to give so she came by herself even though it scared her to travel alone."
PJ, a former nurse anesthetist at the Nazarene Hospital, felt a "stirring in his spirit" when he heard of Jim's need for surgery. He asked some friends to pray with him about what God would have them do. The next day they saw a notice about Jim's surgery in the local newspaper, so they talked to people in the community about Jim's situation. People started to respond.
Street donations in one day were $6,000 USD, reported Baru, acting hospital administrator. Later, another $9,000 was brought in from the community. At the Nazarene mission station adjacent to the hospital where Jim has served for 29 years, local people gave another $5,900 USD. One community leader donated $831 and several businesses contributed another $2,000. A member of Parliament gave more than $8,000. The Jiwaka Provincial Government is also fundraising on behalf of Jim.
"There was a community event at our local market a few weeks ago that was organized by the leaders of two of the local area tribes. One of these leaders has been a bit antagonistic to the hospital and mission over the years, but he recently came to Christ at a revival service and has been in a small group that Dr. Jim was leading to disciple the converts," Goossens wrote. "He was the most outspoken supporter of Dr. Jim and his ministry at this event. It has been amazing to see the outpouring of love sometimes 2 kina ($0.80) at a time from people who are primarily subsistence farmers."
"God is doing miracles here and we praise God for moving people, both Christians and non-Christians giving out of compassion and deep love for you and your work over 29 years here," wrote Baru to Jim in August.
Click here to read the rest of the story on Engage Magazine website.